The  Bro of the Week is here just in time for the weekend. Summer is winding down for those who are going back to school and for those who are actual adults its same shit different day except the weather starts to get worse. So get out there this weekend and be a bro for crying out loud.
Anyway, this weeks Bro is Dan LeBatard, ESPN Radio personality, host of a self-titled show and All-Pro Troll.
Being a troll isn't normally a good thing but in this case I think Dan did it right and was actually pretty funny. If you haven't ever watched LeBatard's show you should check it out. It employs Bomani Jones and LeBatard's father, Papi. They normally get some interesting interviews with players and are a much different take than the usual garbage we hear on First Take or Around the Horn.
What did Dan do to earn him BOTW? Well as a huge Miami Heat fan he was obviously upset when King James decided to take his talents to Eastern Ohio and inquired in the Akron Beacon Journal about taking an ad out thanking Lebron for his time playing for the Heat. The paper declined the offer so instead Lebatard bought a billboard space in Akron.  Here is the board: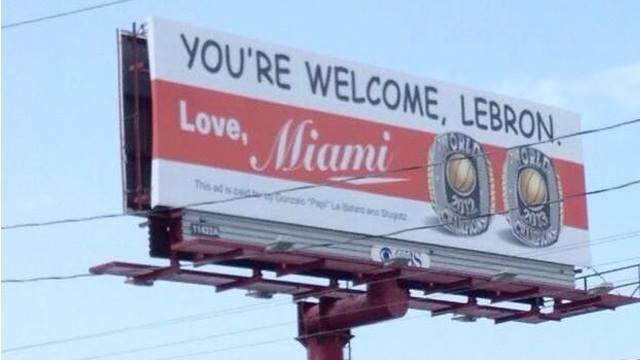 Witty, hilarious, a slight towards Lebron. I love it but unfortunately the suits at ESPN did not. They suspended Lebatard for 2 days, saying he would return to the air on Monday. They stated  "Dan LeBatard will be off the air for two days, returning Monday. His recent stunt does not reflect ESPN's standards and brand. Additionally, we were not made aware of his plans in advance."
ESPN's standards?? What would those standards be? Getting on their knees for Lebron day in and day out? Praising his every move both during the season and off season? Get out of here ESPN, you are a joke. I applaud Dan Lebatard for being an actual funny journalist that doesn't just shove out the same stale content that the rest of his colleagues do (except SVP and a few others).
Congrats Dan on being the Bro of the Week. 6 pack of Natty Ice and a tin of mint Skoal on it's way. Enjoy your 2 days off from ESPN.
PS: ESPN is a HUGE joke. They suspend Lebatard for a stunt that in the end was pretty harmless all the while they have guys like Stephen A Smith on the air spewing nonsense every day. Yes I know Smith got slapped around by ESPN for his Ray Rice take but still. Lebatard can be a huge troll sometimes (giving his MLB HOF vote to Deadspin) but he at least makes thoughtful remarks that bring new ways of looking at sports.
Follow me on twitter @Geener4three. I can't say it will make you smarter but it should make you laugh.
h/t For The Win